Nielsen's 10 Heuristics of Facebook Task: Using Page & its Privacy in Facebook
by Zakaria Z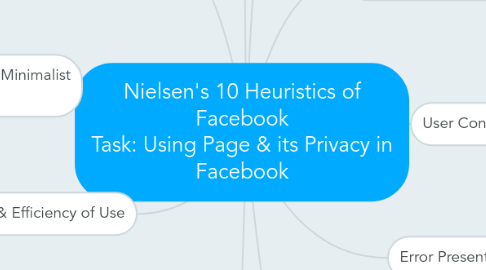 1. Match Between System & Real World
1.1. Able to keep certain information among self from the public
1.2. People tend to damage the page
1.3. Able to find people with same interest.
1.4. People tend to criticize the post
2. Visibility of System Status
2.1. Allow some posts to be seen public.
2.2. Able to see how active is the people.
2.3. Interesting from members are not shown at the main column.
3. User Control & Freedom
3.1. Control who can see the profile.
3.2. Control the type of posts by users
3.3. Freedom to share any information to each other
3.4. People can steal information & claim it as their own.
4. Error Presentation
4.1. Word with misspelling will be underlined.
4.2. Not able to see the preview of the post before others can see it
4.3. Admin of the page not able to see the page from member perspective.
5. Consistency & Standard
5.1. There is an auto-translation for the user who couldn't read the words of another language.
5.2. Some words are not able to be translated.
5.3. People from different language are able to read the same meaning of words.
6. Help & Documentation
6.1. A tutorial tour for new user to try out the feature of Page.
6.2. Not all the help guide are useful.
6.3. Able to see details of the page
7. Help User Regonisem, Diagonise & Recover from Errors
7.1. Able to edit the post after it submission
7.2. People will miss out about the edited post
7.3. A Pop-up of Confirmation appear when leaving an submitted post
8. Aeshetetic & Minimalist Design
8.1. Information are organized.
8.2. Able to switch to another design
8.3. Post by admin & member are at different area
9. Flexibility & Efficiency of Use
9.1. Easily access to the page by clicking on it at the left side column instead of searching for it.
9.2. Spread about an event of interest on the group.
9.3. Members only want to see interesting posts
10. Recognition Rather than Recall
10.1. Able to see who post it
10.2. Picture of interest will catch the attention
10.3. Some words used are complex that need to refer to dictionary.