I can speak English - Unit 1 - Me!
by Michelle Worgan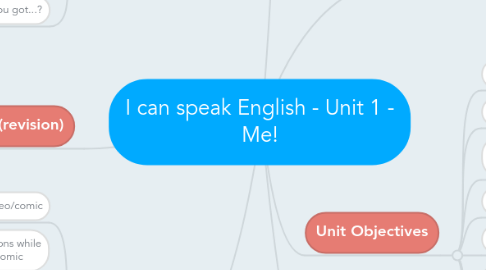 1. Unit Objectives
1.1. Learners can introduce themselves
1.2. Learners can say their age
1.3. Learners can talk about their likes and dislikes
1.4. Learners can talk about favourites
1.5. Learners can respond to personal questions
1.6. Learners can follow a video presentation with key language
1.7. Learners can recognise written forms of key language
1.8. Learners can use key language when prompted
2. Key Language
2.1. My name is...
2.2. I'm ... years old
2.3. I like... /I don't like...
2.4. My favourite colour is...
3. Secondary Language
3.1. What's your name?
3.2. How old are you?
3.3. Do you like...?
3.4. What's your favourite colour?
3.5. Can you spell it?
3.6. Have you got...?
4. Vocabulary areas (revision)
4.1. Numbers
4.2. Colours
4.3. Alphabet
4.4. Other vocabulary
5. Tasks
5.1. Watch a video/comic
5.1.1. Little Bird Tales?
5.2. Respond to questions while watching a video/comic
5.3. Record responses (voice comments)
5.4. Read and listen to video/comic
5.5. Choose an activity
5.5.1. Draw a picture of you and your things. Write sentences.
5.5.2. Draw a picture of you. Say your name, age and favourite colour.
5.5.3. Draw and decorate your name. Spell it.
5.5.4. Say what you like and don't like.
6. Extras
6.1. Colours song
6.2. Alphabet song